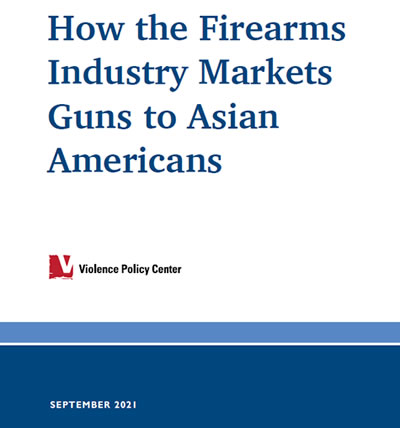 Exploiting the increase in hate crimes against Asian Americans during the COVID-19 pandemic, the gun industry is targeting the Asian American/Pacific Islander (AAPI) community as potential new gun buyers and future pro-gun advocates.
The firearms industry and gun lobby are currently targeting minority communities in their marketing in response to long-term stagnation in the traditional gun market of white men. Until recently, this campaign focused primarily on Black and Latino Americans, but the gun industry is now ramping up its efforts targeting Asian Americans.
Asian Americans have low gun ownership rates, strongly support stricter gun laws, and are the fastest growing voter group in the United States. As a result of their increasing size and consumer power, Asian Americans are viewed as an untapped market by gunmakers. And in the eyes of the firearms industry and gun lobby, the purchase of a firearm is the first step down the path for new gun owners to become future pro-gun advocates and voters.
How the Firearms Industry Markets Guns to Asian Americans
Table of Contents
Chris Cheng: "Diversity is the next area of success for our industry"
Exploiting COVID Violence Against Asian Americans
A Marketing Means to a Political End
The Real-World Lethal Impact of Guns on the AAPI Community
Guns are Rarely Used by Asian Americans in Justifiable Homicides
Follow this link to download the study as a pdf.
Follow this link to read the press release.
Follow this link for social media graphics.