Gun deaths outpaced motor vehicle deaths in 34 states and the District of Columbia in 2020, the most recent year for which data is available.
That year, gun deaths (including gun suicide, homicide, and fatal unintentional shootings) outpaced motor vehicle deaths (both occupant and pedestrian) in Alabama, Alaska, Arizona, Colorado, Delaware, District of Columbia, Georgia, Idaho, Illinois, Indiana, Kansas, Kentucky, Louisiana, Maryland, Michigan, Minnesota, Missouri, Montana, Nevada, New Hampshire, New Mexico, Ohio, Oklahoma, Oregon, Pennsylvania, South Carolina, Tennessee, Texas, Utah, Vermont, Virginia, Washington, West Virginia, Wisconsin, and Wyoming.
In just over a decade, the number of states plus the District of Columbia where gun deaths exceed motor vehicle deaths has increased from just 13 in 2010 to 35 in 2020—a jump of 169 percent. Complete state-by-state tables showing firearm deaths and rates and motor vehicle deaths and rates for 2010 and 2020 are contained in the analysis below.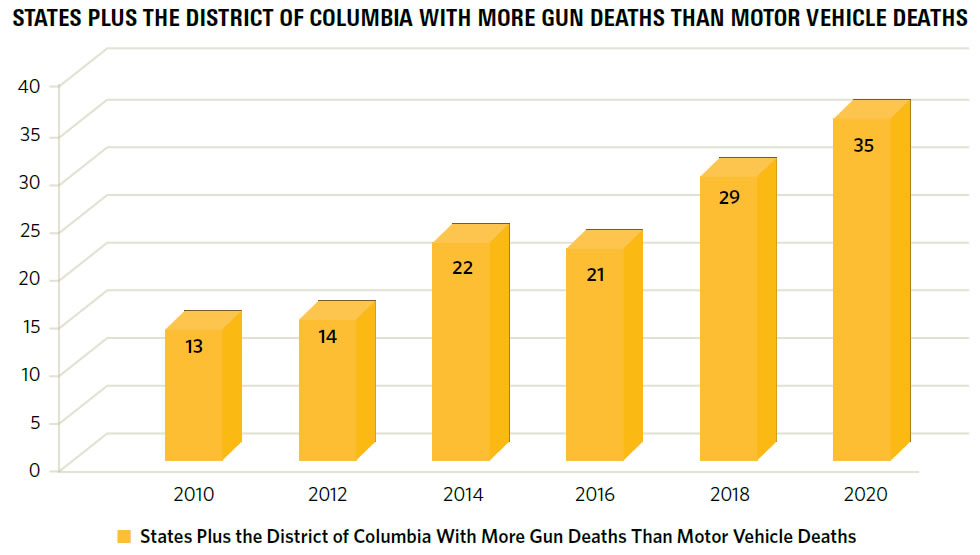 Publications
Gun Deaths Surpass Motor Vehicle Deaths in 34 States and the District of Columbia in 2020 (January 2022)
View the press release
Previous Publications Comparing Gun Deaths to Motor Vehicle Deaths
Gun Deaths Outpace Motor Vehicle Deaths in 21 States and the District of Columbia in 2014 (January 2016)
View the press release

Gun Deaths Outpace Motor Vehicle Deaths in 17 States and the District of Columbia in 2013 (April 2015)
View the press release
Gun Deaths Outpace Motor Vehicle Deaths in 14 States and the District of Columbia in 2011 (July 2014)
View the press release
Gun Deaths Outpace Motor Vehicle Deaths in 12 States and the District of Columbia in 2010 (May 2013)
View the press release
Gun Deaths Outpace Motor Vehicle Deaths in the DMV in 2010 (October 2012)
View the press release
Gun Deaths Outpace Motor Vehicle Deaths in 10 States in 2009 (May 2012)
View the press release