Chris Cheng: "Diversity is the next area of success for our industry"
The birthplace of the long-term, organized, and coordinated campaign targeting non-white potential gun owners was the 2015 Industry Summit held by the National Shooting Sports Foundation (NSSF), the trade association for the firearms industry, in Savannah, Georgia.9 As a press release issued by NSSF after the event explained:
The central theme of the 2015 Industry Summit, diversity, is one that proved the industry is preparing to significantly change the way it does business. 'We've talked loosely about diversity for years,' said Chris Dolnack, NSSF Senior Vice President and Chief Marketing Officer, 'but there's never been a cohesive effort across the industry as a whole to address this subject and innovate change. This year's Industry Summit showed us that we're about to experience a ground-swell shift in that attitude. Summit attendees came fully prepared, arriving with focused, on-point questions about what changes they need to make in their businesses to embrace a new consumer audience.'10
As illustrated by presentation slides shared on Twitter by Summit attendees, speakers offered overviews of the potential shooters they were targeting, breaking racial and ethnic groups (Black, Latino, and Asian) down by "demographics," "psychographics," and "technographics." The demographics for "Asian Shooters" included: "Younger, higher income and education; Conservative and family oriented in a traditional way; Skew more English dominant than overall Asian population." Psychographics were listed as: "See themselves as more creative and spiritual; Independent minded and passionate, more demanding of self; Driven and ambitious but not just by money; Practical, curious, don't let the small things cloud life; Tend to be more self-oriented versus socially outgoing." Technographics were listed as: "High involvement in social media, high daily usage rate; Confident posting, sharing, interacting on social media; Introverted offline BUT expressive social media presence; Highest incidence of video gaming."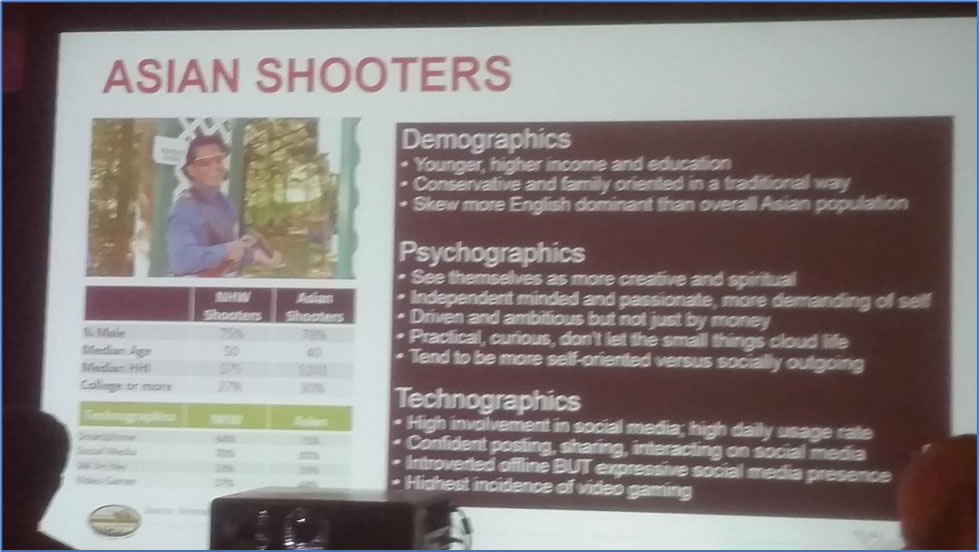 Among the speakers at the meeting was Chris Cheng, a one-time Google employee whose notoriety stemmed from his having won the History Channel's "Top Shot" shooting competition without any formal training or having garnered a prior shooting award. Cheng has advocated on behalf of NSSF, with one NSSF article's author describing him as "one of the more unlikely people I can think of to become a top shooter. He not only breaks many shooting sports molds, but rumor has it he even has the mold-makers on the run. Cheng is a techno-nerd, an Asian-American and openly gay — three things the stereotype monitors tell us you're not supposed to find in the shooting sports."11 Cheng has also served on NSSF's Inclusion and Outreach Working Group.12
Cheng's presentation was titled "Diversity: The Next Big Opportunity," with the hoped-for result being "new shooters, and new gun owners, and new Second Amendment advocates…." As Cheng addressed his audience, he asked:
Now, what is diversity and why is it important…For the context of today's talk, we're talking about ethnicities like we've been talking about for most of the day. Hispanics, Asians, whites, Blacks. Now, this is important because in the context of America, we are a country of immigrants… [W]e then have to understand that a lot of immigrant families do not have traditions of firearms ownership, of hunting, of sports shooting. And therein lies the opportunity for us to promote the Second Amendment, to promote hunting and sports shooting to this new demographic and make them a multigenerational customer and a lifelong Second Amendment advocate.
Cheng concluded with a "call to action" including: "more targeted messaging towards ethnic groups…, sponsoring or attending diversity events such as the NSSF First Shots Program…, [a]nd then finally highlight people of color in firearm ads, media articles and other marketing collateral." Cheng promised, "Diversity is the next area of success for our industry."13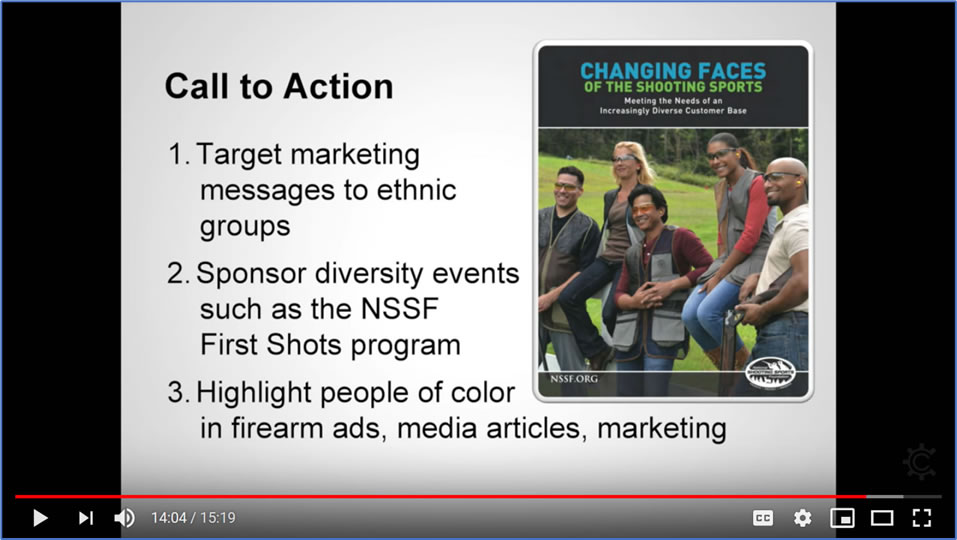 A slide from Chris Cheng's presentation at the 2015 NSSF Industry Summit
Following the Summit, NSSF Senior Vice President and Chief Marketing Officer Chris Dolnack discussed the trade association's marketing efforts:
[O]ver the years many of us have discussed how to expand shooting participation numbers beyond the traditional predominance of Caucasian males. We've made tremendous strides in welcoming women into the sport in the past couple decades, but we haven't been as successful when it comes to ethnic diversity.14 And the thing is, there are legions of African-American, Hispanic and Asian recreational and competitive shooters out there, as well as hunters, but they aren't part of the greater family of gun enthusiasts most are familiar with. We need to change that, need to create the avenues that will welcome these shooters into the fold, and that's what this year's Summit focused on.15
Or as NSSF president and CEO Steve Sanetti summarized, "What a difference this is from just a few years ago when the industry was lamenting that it was becoming stale, male and pale."16
---
Back to Table of Contents
Next – Exploiting COVID Violence Against Asian Americans
---
9  In a grim irony, NSSF's headquarters is located in Newtown, Connecticut, site of the 2012 Sandy Hook Elementary School massacre.
10  "2015 NSSF Industry Summit Hits High Notes," National Shooting Sports Foundation, press release, June 4, 2015 (https://www.nssf.org/2015-nssf-industry-summit-hits-high-notes/).
11  "Chris Cheng — An Unlikely Top Shot," National Shooting Sports Foundation, November 20, 2018 (https://www.letsgoshooting.org/2018/11/20/chris-cheng-an-unlikely-top-shot/).
12  "What Does It All Mean?," SHOT Business, October/November 2018.
13  "Diversity: The Next Big Opportunity," presentation by Chris Cheng at the 2015 NSSF Industry Summit, June 23, 2015 (https://www.youtube.com/watch?v=4FZbiyEJJGo).
14  Despite NSSF's claims of success in marketing guns to women, according to the General Social Survey conducted by the National Opinion Research Center (NORC) at the University of Chicago, in 2018, 10.5 percent of females reported personally owning a firearm. In its 2015 report Trends in Gun Ownership in the United States, 1972-2014, NORC noted, "Personal ownership of firearms has not appreciably change[d] for women from 1980 through 2014. Between 9% and 14% of women personally owned a firearm during those years and there is no meaningful trend in the level of personal ownership." The 2015 NORC study also noted that men "are much more likely to personally own a firearm than women are, but the gender gap has narrowed due to a decline in personal firearm ownership among men," not an increase among women. In 1980, 50.3 percent of men owned a firearm while 10.1 percent of women owned a gun resulting in a gender gap of 40.2 percentage points. By 2018, male gun ownership had dropped more than 14 percentage points from 1980 to 35.8 percent, while female gun ownership in 2018 remained relatively stagnant at 10.5 percent, resulting in a gender gap of 25.3 points. For more information, see Trends in Gun Ownership in the United States, 1972-2014, Tom W. Smith and Jaesok Son, NORC at the University of Chicago, March 2015 (https://www.norc.org/PDFs/GSS%20Reports/GSS_Trends%20in%20Gun%20Ownership_US_1972-2014.pdf) and The Long-Term Decline of Gun Ownership in America: 1973 to 2018, Violence Policy Center, June 2020 (http://vpc.org/studies/ownership.pdf).
15  "NSSF Industry Summit Earns Rave Reviews," NSSF Blog, June 12, 2015 (https://www.nssf.org/nssf-industry-summit-earns-rave-reviews/).
16  "Shooting Industry Must Talk the Talk with New Generation," Shooting Sports Retailer, October 2015.