Exploiting COVID Violence Against Asian Americans
Since the "ground-swell shift" felt at its 2015 Atlanta meeting, NSSF, its gun industry members, and the National Rifle Association have focused primarily on Blacks and Latinos in their marketing efforts.17
In addition to advertising and articles featuring non-white models and their own promotional activities, a parallel track has been to promote pro-gun organizations and "personalities" from the ethnic or racial communities being targeted, many of whom have benefited financially from their relationships with gunmakers or the NRA.
For example, until its collapse in 2019, Black pro-gun YouTube personality Colion Noir was a staple of the NRA's online "news" channel NRATV, with his own show supported by gun industry sponsors. Noir currently promotes pistols in ads for gunmaker Sturm, Ruger. Joining Noir as an NRATV commenter was Gabby Franco, a Latina and the first female shooter to represent Venezuela in the Olympics as well as a contestant, like Cheng, on the History Channel show "Top Shot." Franco's gun industry links have included a "marketing alliance and sponsorship" agreement with Remington Outdoors Company and serving as a "brand ambassador" for Walther Arms. Like Cheng, Franco has been a member of NSSF's Inclusion and Outreach Working Group. Maj Toure, founder of Black Guns Matter, in addition to promoting Bersa handguns and partnering with another manufacturer to sell a branded assault rifle to financially benefit his organization, was promoted by the NRA and offered his endorsement of the group (he later publicly turned against them and now is associated most frequently with NSSF). In 2016 an NRA blog highlighted the one-year anniversary of the National African American Gun Association (NAAGA) with an interview with its founder.
Acting as 'ambassadors' to the non-gun owning members of their respective communities, a common thread that runs through the rhetoric of many of these pro-gun spokespeople is to cite legitimate incidents of past oppression or extreme violence against their race or ethnicity and then use this shameful history as a rationale for personal self-defense gun ownership in the present day.
As noted, the bulk of marketing efforts targeting minority communities have focused on Black and Latino Americans. But now, faced with the opportunity to exploit current fears among the AAPI community, the firearms industry has moved swiftly to make up for lost time.
As a March 2021 Forbes article titled "More Asian-Americans Are Buying Guns For Protection From Hate Crimes" matter-of-factly explained, "Gun makers like Smith & Wesson and Sturm, Ruger want to expand their customer demographics to include more minorities. Asians have been historically underrepresented among gun owners. The NSSF said that in early 2020 only 3.1 percent of gun buyers were Asian males and 0.7 percent were Asian females, even though they represent 6 percent of the U.S. population. This is compared to white males, who accounted for 55.8 percent of gun buyers, and 16.6 percent were white females." The article quoted NSSF Director of Public Affairs Mark Oliva, who stated, "Every law-abiding American has the right, at their birth, to keep and bear arms…The concerns of personal safety of Asian-Americans are no less legitimate than that of any other demographic group in America."18
The well-established pro-gun process of promoting a high-profile 'ambassador' and relevant organization to aid industry marketing efforts is now being repeated with Chris Cheng and the organization AAPIGO (Asian American and Pacific Islander Gun Owners). Following his own recommendations in his "calls to action" back in 2015 to use "more targeted messaging towards ethnic groups" and "highlight people of color in firearm ads, media articles, marketing," Cheng has quickly become the pro-gun face of Asian American recruitment efforts.
On his Facebook page in Spring 2021 Cheng announced AAPIGO, "the first ever AAPI gun owners group. Everyone, including non-Asians, is welcome to join and support our education and outreach efforts…I'm advising AAPIGO and providing my full support and resources to help it succeed."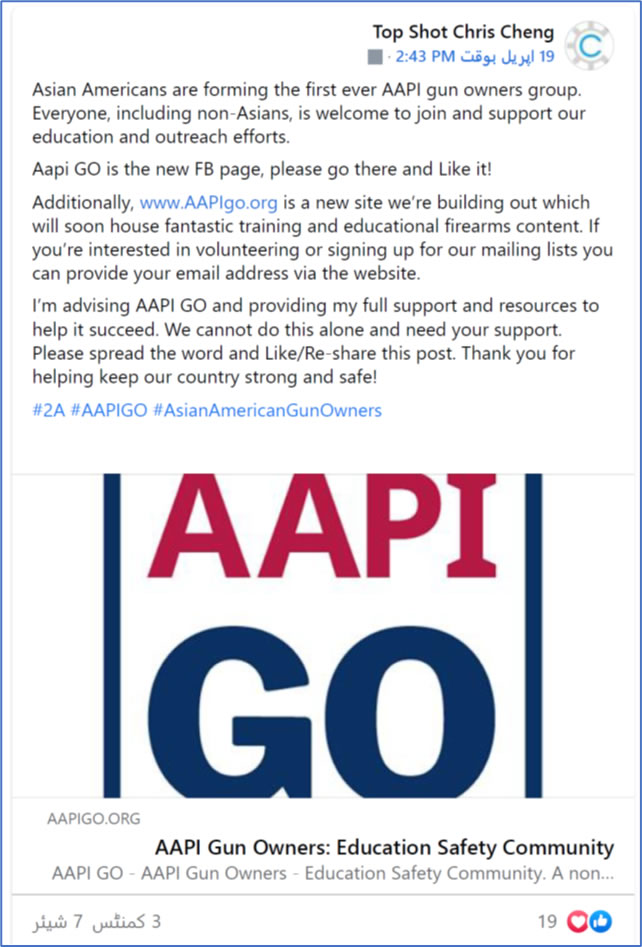 Launched in April 2021, AAPIGO was founded by Patrick Lopez and Scott Kane after meeting online on Reddit.19 According to an article on the blog site The Reload, "The two men had been looking for ways to encourage the influx of new Asian-American gun owners to get training and learn about their Second Amendment rights."20 The article noted that Lopez is Asian American and that Kane's wife and daughter are of Chinese descent21 In the article, Cheng bluntly describes the role he hoped the group would play: "Chris Cheng…told The Reload an Asian group would fill a hole in current efforts by the gun-rights movement and the firearms industry to reach new demographics. He said many Asians come from countries where guns are negatively stigmatized as being tools of oppressive military and police regimes. That, combined with language and cultural barriers, can make it especially hard to get Asian Americans interested in gun ownership, according to Cheng. But not impossible. 'If we look at the success of outreach programs for women, we have a template and a blueprint for how this can be successful,' he said. 'Now, the challenge is taking that and applying it to Asian Americans.'"22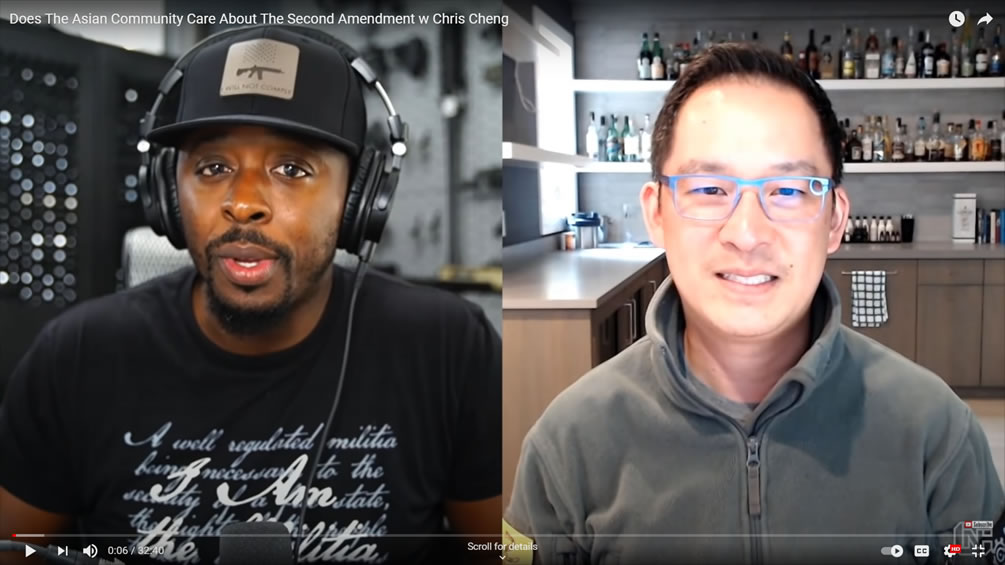 Chris Cheng interviewed by former NRATV personality Colion Noir on the topic of "Does The Asian Community Care About The Second Amendment"
Yet by May 2021, AAPIGO was engaged in an internecine battle after co-founder Scott Kane told CNN that he supported expanded background checks for gun sales and that he had voted for Joe Biden for president.23 Soon after these and other "morally reprehensible" actions,24 visitors to the AAPIGO website were greeted with the banner headline "AAPIGO.org is moving to APAGOA.ORG," where the "leadership team," minus Kane, appeared to be reassembling under the new moniker of the Asian Pacific
American Gun Owners Association (APAGOA).25 Cheng remained an advisor to the renamed group.26
In an online interview with former NRATV commenter Colion Noir, Cheng, explained the "very logical conclusion" as to why more Asian Americans should be buying guns:
Specifically with Asians, COVID has been a flash point with this increase in violence against Asian Americans. Now you couple that with defund the police. If you hear defund the police, you see all these riots and civil unrest that has taken over our country over the past year. The conclusion for many Asians has been, oh crap. If the police can't be there for me….If 911 literally just doesn't work when I need help, then who out there is going to defend me? Obviously you and I know that the answer is every person needs to be their first line of defense. There's where buying a gun is a very logical conclusion for Asian-Americans.
Later, Cheng acknowledged his own role in "putting guns in the hands of good people," stating: "I want to encourage Asian Americans to think about the Second Amendment, to think about these personal civil liberties that we have in our country. Like it or not, it often takes somebody who either looks like you, sounds like you, and in this case, I'm Asian and whether you like it or not, the messenger matters. I think Asians hearing this message, that gun ownership can be good…It's about putting guns in the hands of good people."27
---
Back to Table of Contents
Next – A Marketing Means to a Political End
---
17 For more information, see the January 2021 Violence Policy Center study How the Firearms Industry and NRA Market Guns to Communities of Color (https://vpc.org/how-the-firearms-industry-and-nra-market-guns-to-communities-of-color/).
18 "More Asian-Americans Are Buying Guns For Protection From Hate Crimes," Forbes, March 18, 2021 (https://www.forbes.com/sites/aaronsmith/2021/03/18/asian-americans-buy-guns-for-protection-from-hate-crimes/?sh=1a62bac83edd).
19 In files of Violence Policy Center.
20 "Asian Americans Create Gun Group as Ownership, Hate Crimes Rise," The Reload, April 19, 2021 (https://thereload.com/asian-americans-create-gun-group-as-ownership-hate-crimes-rise/).
21 "Asian Americans Create Gun Group as Ownership, Hate Crimes Rise," The Reload, April 19, 2021 (https://thereload.com/asian-americans-create-gun-group-as-ownership-hate-crimes-rise/).
22 As noted earlier, contrary to the assertions of Cheng and the firearms industry, according to the National Opinion Research Center's General Social Survey (GSS), personal ownership of firearms by women has not changed appreciably since 1980, with nine to 14 percent of women personally owning a firearm. For more information, see The Long-Term Decline of Gun Ownership in America: 1973 to 2018, Violence Policy Center, June 2020 (http://vpc.org/studies/ownership.pdf).
23 "The Fight Against Gun Control Has Some Surprising New Allies," CNN, May 18, 2021 (https://www.cnn.com/2021/05/18/business/gun-control-debate-women-minorities/index.html).
24 "AAPIGO.ORG is Not Associated with Mr. Scott Kane," May 31, 2021. In files of Violence Policy Center.
25 In files of Violence Policy Center.
26 See https://apagoa.org/about-us/.
27 "Does The Asian Community Care About The Second Amendment w Chris Cheng," April 15, 2021 (https://www.youtube.com/watch?v=OtNji7fzpc4).