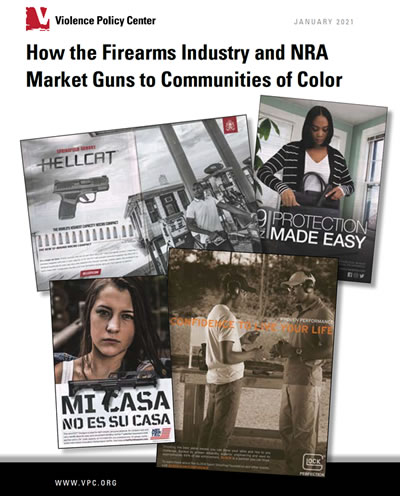 In its efforts to expand gun sales, the firearms industry and National Rifle Association have launched an organized campaign targeting potential new customers – and hoped-for future pro-gun activists – beyond the traditional but now stagnant market of white males. The January 2021 Violence Policy Center study How the Firearms Industry and NRA Market Guns to Communities of Color documents how this coordinated effort began in 2015 and has only intensified over time. This VPC report focuses on efforts targeting Black and Latino Americans and reveals the scope of this marketing campaign as evidenced by: gun industry marketing studies and related materials from the National Shooting Sports Foundation (NSSF, the trade association for the firearms industry); articles in gun industry publications, advertisements, videos, and social media; and, NRA articles, online programming, and related materials. Recognizing that Black and Latino Americans are already disproportionately impacted by lethal gun violence, these efforts can only increase death and injury in these communities.
In September 2021, the VPC released How the Firearms Industry Markets Guns to Asian Americans which reveals how the gun industry, exploiting the increase in hate crimes against Asian Americans during the COVID-19 pandemic, is also targeting the Asian American/Pacific Islander (AAPI) community in its sales efforts.
In its marketing efforts to communities of color, the gun industry frequently focuses on the self-defense use of firearms, despite the fact that guns are rarely used to stop crimes or kill criminals and are far more likely to be used in homicides, suicides, or fatal unintentional shootings.
How the Firearms Industry and NRA Market Guns to Communities of Color
How the Firearms Industry Markets Guns to Asian Americans