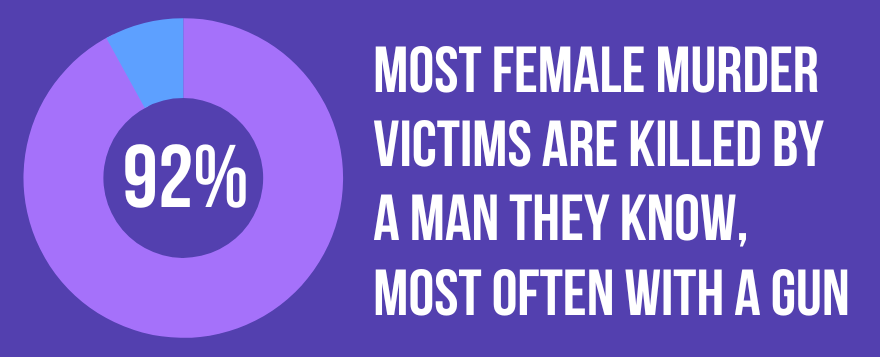 The presence of a firearm can turn domestic violence into domestic homicide. When men murder women, the most common weapon used is a gun. Nine out of 10 females murdered by males are killed by someone they know.
To reduce lethal violence against women, it is essential to keep guns away from domestic abusers.
When Men Murder Women is an annual study released by the VPC for Domestic Violence Awareness Month in October. State by state, the study details the circumstances of all reported homicides of women by men in single-victim/single-offender incidents. The study also ranks the states based on their rate of females killed by males. This research is used by state and local advocates to educate the public and policymakers on the realities of domestic violence and promote effective solutions to protect women and children from abusers. The most recent edition was published in September 2022 presenting data from the year 2020. In 2023, the VPC was forced to temporarily suspend the state rankings usually contained in the report due to the unreliability of 2021 federal crime data as the result of the Federal Bureau of Investigation's ongoing transition from its Uniform Crime Reports (UCR) Summary Reporting System (SRS) to the new National Incident-Based Reporting System (NIBRS). For an overview of how the problems associated with this switchover have negatively affected data collection and its impact on gun violence research and policy development, please see the VPC study The Negative Impact of the National Incident-Based Reporting System (NIBRS) Transition on Gun Violence Research. It is our hope that at some point in the near future we will be able to resume publication of the original report, including its state rankings.
Publications
When Men Murder Women: A Review of 25 Years of Female Homicide Victimization in the United States (October 2023)
View the press release
Social Media Graphics
Previous Editions of When Men Murder Women

When Men Murder Women: An Analysis of 2020 Homicide Data (September 2022)
View the press release
When Men Murder Women: An Analysis of 2019 Homicide Data (September 2021)
View the press release
When Men Murder Women: An Analysis of 2018 Homicide Data (September 2020)
View the press release
When Men Murder Women: California (October 2020)
View the press release
When Men Murder Women: An Analysis of 2017 Homicide Data (September 2019)
View the press release
When Men Murder Women: An Analysis of 2016 Homicide Data (September 2018)
View the press release | View a companion study that focuses on the Great Lakes states
When Men Murder Women: An Analysis of 2015 Homicide Data (September 2017)
View the press release | En español
When Men Murder Women: An Analysis of 2014 Homicide Data (September 2016)
View the press release | En español
When Men Murder Women: An Analysis of 2013 Homicide Data (September 2015)
View the press release | En español
When Men Murder Women: An Analysis of 2012 Homicide Data (September 2014)
View the press release
When Men Murder Women: An Analysis of 2011 Homicide Data (September 2013)
View the press release
When Men Murder Women: An Analysis of 2010 Homicide Data (September 2012)
View the press release
When Men Murder Women: An Analysis of 2009 Homicide Data (September 2011)
View the press release
When Men Murder Women: An Analysis of 2008 Homicide Data (September 2010)
View the press release
When Men Murder Women: An Analysis of 2007 Homicide Data (September 2009)
View the press release
When Men Murder Women: An Analysis of 2006 Homicide Data (September 2008)
View the press release
When Men Murder Women: An Analysis of 2005 Homicide Data (September 2007)
View the press release
When Men Murder Women: An Analysis of 2004 Homicide Data (September 2006)
View the press release
When Men Murder Women: An Analysis of 2003 Homicide Data (September 2005)
View the press release
When Men Murder Women: An Analysis of 2002 Homicide Data (September 2004)
View the press release
When Men Murder Women: An Analysis of 2001 Homicide Data (September 2003)
View the press release
When Men Murder Women: An Analysis of 2000 Homicide Data (October 2002)
View the press release
When Men Murder Women: An Analysis of 1999 Homicide Data (October 2001)
View the press release
When Men Murder Women: An Analysis of 1998 Homicide Data (October 2000)
View the press release
When Men Murder Women: An Analysis of 1997 Homicide Data (October 1999)
View the press release
When Men Murder Women: An Analysis of Homicide Data (September 1998)
View the press release