Section Two: The National Rifle Association
The NSSF and its industry partners are joined in these marketing efforts by the National Rifle Association. As noted earlier, while the marketing efforts of the NSSF are designed to ensure the financial success of the gun industry, for the NRA new gun buyers represent the ranks from which future foot soldiers can be drawn to protect its political and financial interests.
While historically the NRA has focused its outreach efforts on women (one recent example is its NRA Women campaign sponsored by gunmaker Smith & Wesson) and more recently on children, like NSSF it has jumped on the diversity bandwagon.
In 2015, the NRA Family website, under the headline "American Hispanics: The Newest Second Amendment Enthusiasts," breathlessly cited the findings of NSSF's research on Latinos:
There is a market out there that is 57 million strong, has a buying power approaching $1 trillion and, for many, have a positive interest in firearms and the shooting sports. Can you guess who it might be? The answer might surprise you: our American Hispanic population. The National Shooting Sports Foundation (NSSF) commissioned a study to learn more about Hispanics' interests in firearms and the shooting sports. The study showed that, of the Hispanics surveyed, 18 percent own firearms and 25 percent would like to, 41 percent have been to a shooting range and 42 percent would attend a training class or seek firearms instruction…This is valuable information! This survey has informed us of a barely tapped population that can broaden our pro-gun community, increase participation in the shooting sports and boost NRA membership and our political presence.43
In its efforts, the NRA has taken two approaches. The first has been to present Black and Latino spokespeople in its public education and marketing efforts. The second has been to profile and publicize groups, as the NSSF's Juett states, "whose memberships are considered non-traditional."
Until its collapse in 2019 as the result of a power struggle between the National Rifle Association, its long-time public relations firm Ackerman McQueen, and principals on both sides, the NRA's online "network," NRATV, was the primary means by which the organization conducted its outreach activities to its hoped-for new markets.
In 2013, Colion Noir, a pro-gun Black YouTube personality joined the NRA as one of the organization's commenters and show hosts on NRATV and other media platforms. In his role, Noir not only was presented as an "authentic" pro-gun Black voice, thus burnishing the NRA's outreach bona fides, but also was deployed to attack politicians, advocates, the news media, organizations, and institutions. Noir filled an awkward, self-conscious void at the NRA. A ceaseless self-promoter, Noir was perhaps the only official NRA commentator who freely used profanity (perhaps as a gauge of his authenticity). In one NRA ad, Noir stated:
No one wants to fight for their protection, they want the government to do it. The same government who at one point hosed us down with water, attacked us with dogs, wouldn't allow us to eat at their restaurants and told us we couldn't own guns. The only person responsible for your safety is you. Cops can't always be there. Obama definitely can't be there.44
At the same time, on his various platforms (NRA and personal) Noir was a consistent pitch man for the gun industry and its products. With the end of his NRA tenure, Noir's profile as an industry pitchman has only grown, as illustrated by the February 2022 issue of Guns & Ammo magazine, in which he's featured in two firearms industry ads.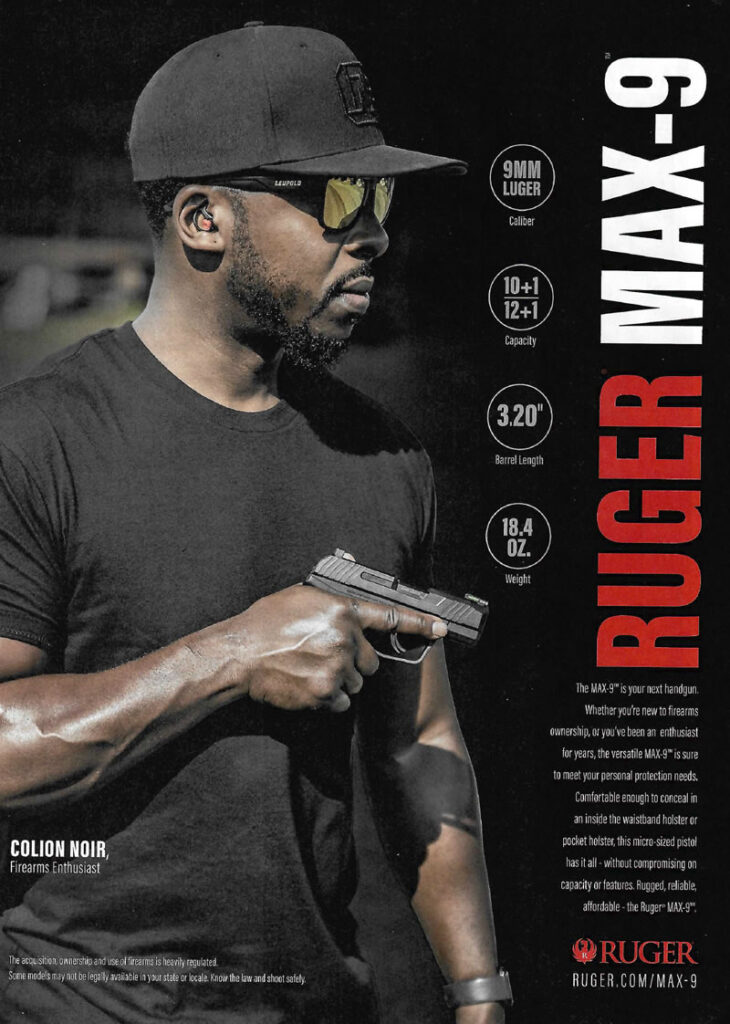 An ad for Sturm, Ruger's MAX-9 handgun features "Firearms Enthusiast" Noir holding the concealed carry pistol. The ad copy promises, "The MAX-9 is your next handgun. Whether you're new to firearms ownership, or you've been an enthusiast for years, the versatile MAX-9 is sure to meet your personal protection needs. Comfortable enough to conceal in an inside the waistband holster or pocket holster, this micro-sized pistol has it all ꟷ without compromising on capacity or features."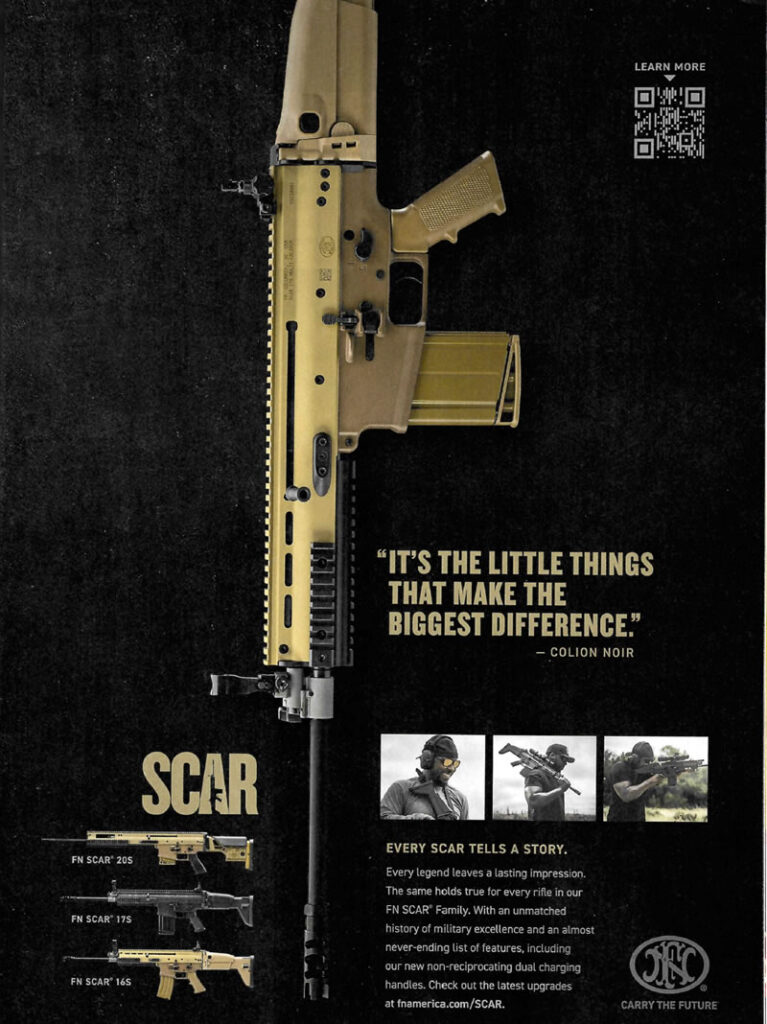 An ad for FN's SCAR assault rifle features a quote from Noir, "It's the little things that make the biggest difference," above a set of photos of him with the military-bred weapon. The ad copy explains, "Every SCAR tells a story. Every legend leaves a lasting impression. The same holds true for every rifle in our FN SCAR Family. With an unmatched history of military excellence and an almost never-ending list of features…." Beneath the company's logo, text urges the reader to "Carry the Future."
Joining Noir as an NRATV commenter was Gabby Franco, a Latina and the first female shooter to represent Venezuela in the Olympics as well as a contestant on the History Channel's show "Top Shot." Franco's gun industry links have included a "marketing alliance and sponsorship" agreement with Remington Outdoors Company and serving as a "brand ambassador" for Walther Arms. She also hosts Tips & Tactics, sponsored by sporting goods store Cabela's on the NRA Women's Network, which is sponsored by gun manufacturer Smith & Wesson.45 Like Chris Cheng, Franco has been a member of NSSF's Inclusion and Outreach Working Group.46
Writing on the NRABlog for Hispanic Heritage Month, Franco explained:
I am passionate to protect the constitution of the USA because I know what happens when politicians start changing it, which is what had happened in my home country Venezuela for decades.
You can say that I am an American that knows how to speak Spanish and dance merengue or you can say that I am a Hispanic that speak English and love the American flag. Either way you are correct!47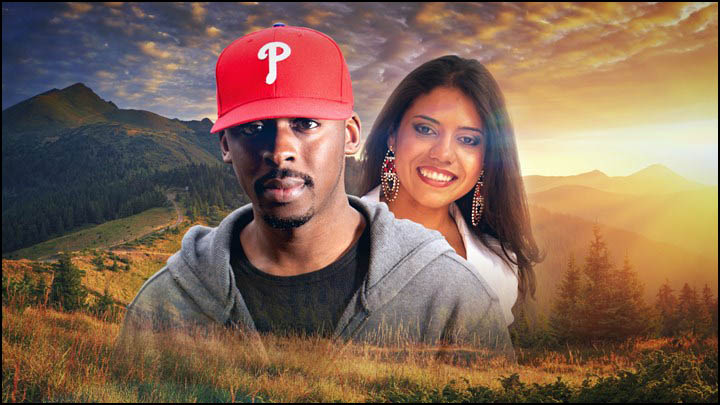 A 2015 online America's 1st Freedom article titled "Not Your Father's NRA?" featured a composite photo of Noir and Franco rising out of an idyllic valley against a backdrop of mountains and touted a "seismic shift" in the organization's membership:
The common image of the National Rifle Association portrayed in the media is that of what Colion Noir has humorously dubbed the OFWG—the 'old, fat white guy.' But one of the most remarkable trends in American society right now is how interest in guns is expanding and obliterating demographic boundaries. The prominence of women in NRA and the gun-rights movement in general has been widely noted in the last decade — but less attention has been paid to the growing racial diversity within the ranks of gun owners.48
What all of this means for the future is a new generation of NRA members that might look quite a bit different from its predecessors, but will have the same goal of protecting our Second Amendment rights. We'll likely see a far more equal blend of men and women, gathered from all racial backgrounds. The youngest gun owners signing up to stand behind the Second Amendment are quietly enabling a seismic shift in the organization's demographic makeup.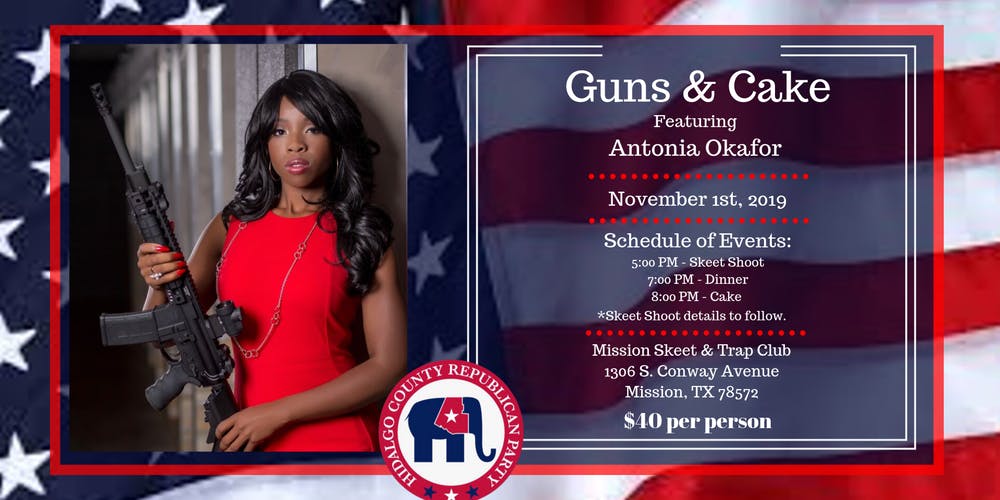 Invitation for a 2019 "Guns and Cake" event offering a "sneak peek of our pre-election shoot out!" with "special guest Antonia Okafor!!"49
In July 2016, an NRA blog post announced "NRA Releases Powerful New Ads Featuring Millennial Women," one of whom was Antonia Okafor, a Black woman described as a "passionate advocate of women's issues who is the Southwest Regional Director of Students for Concealed Carry on Campus." According to the blog:
Antonia [Okafor] has been told her whole life that as a black woman she shouldn't support the Second Amendment, that she shouldn't want to have the right to protect herself, and that she should fall in line. Antonia didn't listen. She's a millennial woman who refuses to be put in a box. Antonia doesn't care what names anti-gun bigots call her. She refuses to be a victim. And she's talking to women just like her every day.50
In the video ad, Okafor states:
I've been told that Black women aren't supposed to support the Second Amendment. I've been told I shouldn't want to be able to protect myself. I shouldn't teach my fellow students about their rights, and I shouldn't speak my mind. Thank God I didn't listen. To all of those who have called me a sellout, an Uncle Tom or a pawn for someone else, here's what should scare you. I never changed my beliefs. I woke up and realized that you don't represent them. You don't speak for me and you don't think for me. I am not the victim you need me to be. And I'm talking to more women like me every single day. I'm the National Rifle Association of America and I'm freedom's safest place.51
Like Maj Toure, Colion Noir, and Gabby Franco, Okafor has her own online store.52
During this period, the NRA also promoted Maj Toure and Black Guns Matter, who in a June 2016 YouTube video titled "Maj Toure on the NRA," urged viewers to "get more informed with the NRA and what it does for us…." Said Toure:
The other thing that's very important is especially for people in an urban demographic, you got to get more informed with the NRA and what it does for us and what it has been fighting for. Now, I know a lot of people have a skewed representation for whatever reason of the NRA, the National Rifle Association, and what it is and who their members are, but you'd be doing yourself a tremendous, again, disservice to not at least look into them. You know, you wouldn't want someone to assume that because you're from the urban area that you're going to run up on him and rob him. So it's not our job to assume that the NRA is just, you know, good old boys with pickup trucks and it's not. So go onto NRA's website, they are the largest gun rights advocate, Second Amendment fighting for group in the world. It's a political organization. It's a civil liberties organization. So you definitely should go check that out, you can become a member. But before you even decide to do that, you need to do your research and look into the NRA. They have plenty of information.53
Yet, by April of 2019, Toure had turned on the NRA, telling BREAKERMAG:
I am no longer an NRA member. I don't fuck with the NRA. They're not doing what they say they're going to do. I don't see them doing the work in urban America like we are. They say they want to. I just see them taking cool pictures.
When I see some genuine changes in that direction, not just hiring a person that happens to be black, then I'll switch again.54
In addition to NRA spokespeople such as Noir, Franco, and Okafar, the NRA has also promoted organizations that aid its recruitment efforts beyond the traditional target market of white males.
In 2016 an NRA blog highlighted the one-year anniversary of the National African American Gun Association (NAAGA) with an interview with its founder, Philip Smith, who started the organization in February 2015 "in honor of" Black History Month.55 The NRA has also aided and subsidized NAAGA's legal activities. In just one example, in 2019 the organization submitted an amicus brief in the case Rogers v. Grewal before the U.S. Supreme Court.56 The counsel of record for NAAGA's brief was Stephen Halbrook and the brief itself "was funded in part by the NRA Civil Rights Defense Fund." Halbrook, one of the gun lobby's go-to attorneys, has published articles in NRA publications, received grants from the NRA, and has served as outside counsel to the organization.57 According to Smith, who is not a member of the NRA, the two organizations have a "respectful" relationship.58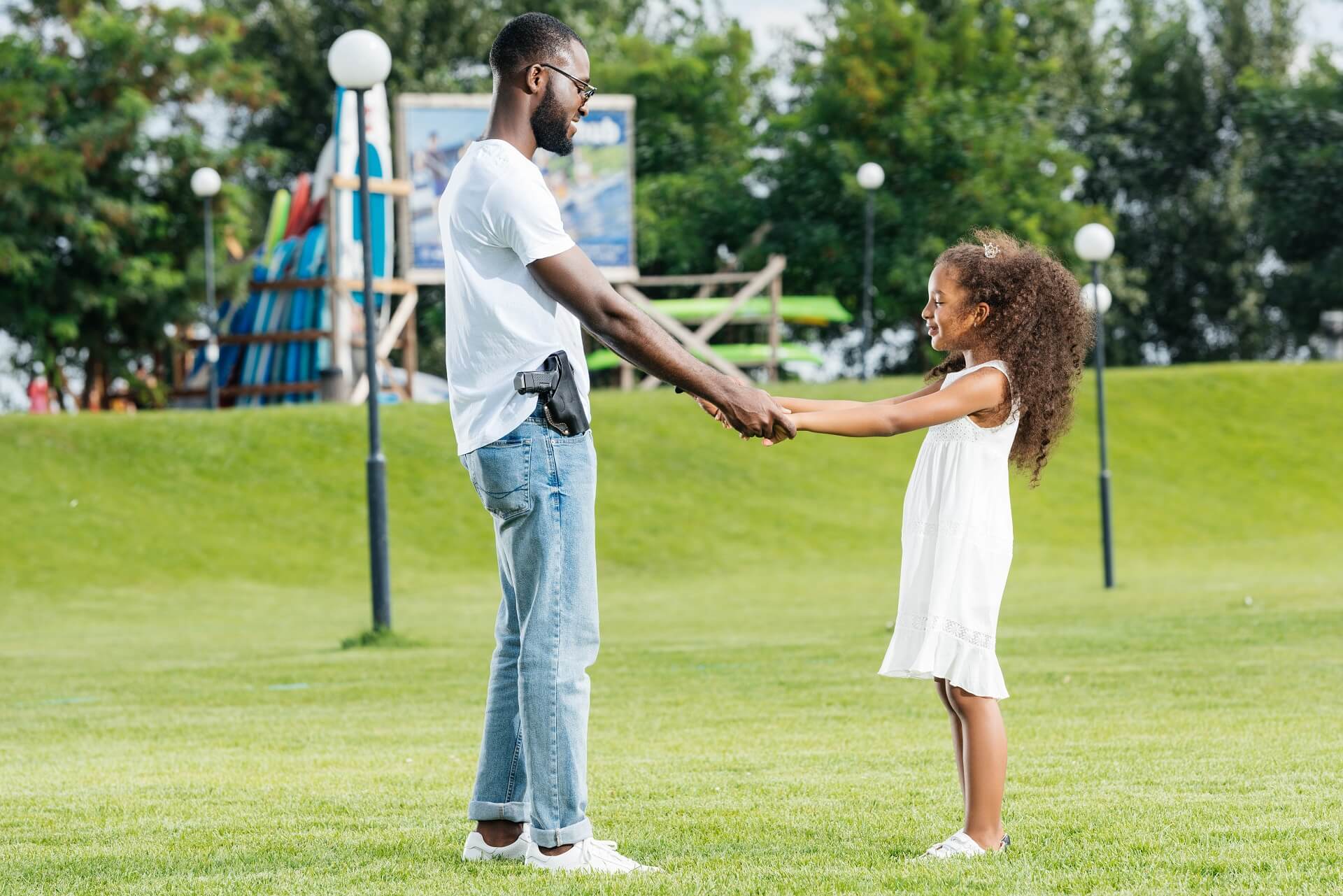 An Istock photo from the NAAGA web page
NAAGA does, however, have an "Official Partnership" with handgun manufacturer Glock. In announcing Glock as the "Official Handgun" of the National African American Gun Association in 2018, Smith stated:
We are extremely pleased and excited to have Glock as an official partner. They are a Global leader in producing one of the best pistols in the Industry. Our partnership with Glock will help us continue to build a safe and effective training environment for those in our community to learn about Firearms using a world-class semi-automatic handgun platform. Glock understands the big picture for our community and the 2nd Amendment.59
With the ascension to the NRA presidency in 2017 of Pete Brownell, the CEO of Brownells, a gun manufacturer and vendor of ammunition and gun accessories, the industry's diversity goals and the NRA's agenda were now publicly one. Brownell's appointment by the NRA's board was historic. For the first time in the organization's history, a member of the gun industry was the titular head of the group. Brownells is also a member of the National Shooting Sports Foundation.60
In a July 2017 "President's Column" published in America's 1st Freedom headlined "NRA Will Focus On Outreach With a Broad Spectrum of Programs," Brownell expressed the desire to reach out to the Black community, and emphasized the NRA's self-proclaimed role as America's "oldest civil rights organization," stating:
Serving to save the rights that protect the liberties of all Americans, we are indeed the oldest civil rights organization in the country. Among the prouder marks of our history, which began in 1871, is that after the Civil War and during the difficult years that followed, the NRA was perhaps the only organization that was totally colorblind.
Among our top priorities is an aggressive effort to represent peaceable gun owners from every segment of our society. We will be telling our story. And in doing so, I am certain we will represent a diverse cross section of firearm owners who should be in our family, thus bringing more women and more minorities into to [sic] our community of safety, sport and preservation of freedom.61
In the next month's column, titled "Second Amendment Belongs to All Americans, Regardless of Race, Creed or Gender," Brownell stated:
The Second Amendment belongs to every American. The freedom secured by the Second Amendment cannot be put asunder by any conceivable element of discrimination — not by color, race, age, sex, sexual orientation, language, religion, political ideology or national origin.
This is the simple, direct message of the National Rifle Association to all Americans. I'm proud of our minority outreach efforts to date, but more work needs to be done. A central focus of my NRA presidency is to help the NRA be more inclusive than it's ever been.
The Constitution does not care about the tone of your skin, whom you love, which political party you've vowed to support or which language you speak — if you're speaking the language of freedom. If you're willing to protect your family no matter the cost, and if you want to have a say when it comes to your rights as a law-abiding, responsible American gun owner, then I want you to join us.62
Brownell blamed the inability of the gun lobby and firearms industry to engage Black and Brown communities on the image created by "anti-gunners,"6 stating:
Millions of our fellow Americans, many of them minorities, are becoming gun owners for the very first time. Unfortunately, some seem to have been deceived by false rhetoric about us peddled by anti-gunners. It's on us to quash the rhetoric. It's on us to prove anti-gunners wrong.63
Brownell concluded by emphasizing the duty of the NRA and its members to reach out to these minority communities, citing YouTube videos featuring Colion Noir and noting that the NRA Board's Urban Affairs Committee had was now renamed the Outreach Committee.64
Brownell continued to state the group's diversity goals in a subsequent NRA profile:
The long-term success of this 146-year-old organization depends on what we do today. For the NRA to be viable and healthy 30 years from now, we must embrace diversity. Now, more than ever, it's critical to get our youth out hunting, shooting, fishing and just enjoying the outdoors. It's equally critical to attract minorities, women, and farm-to-table advocates who represent the next generation of outdoorsmen and -women.65 66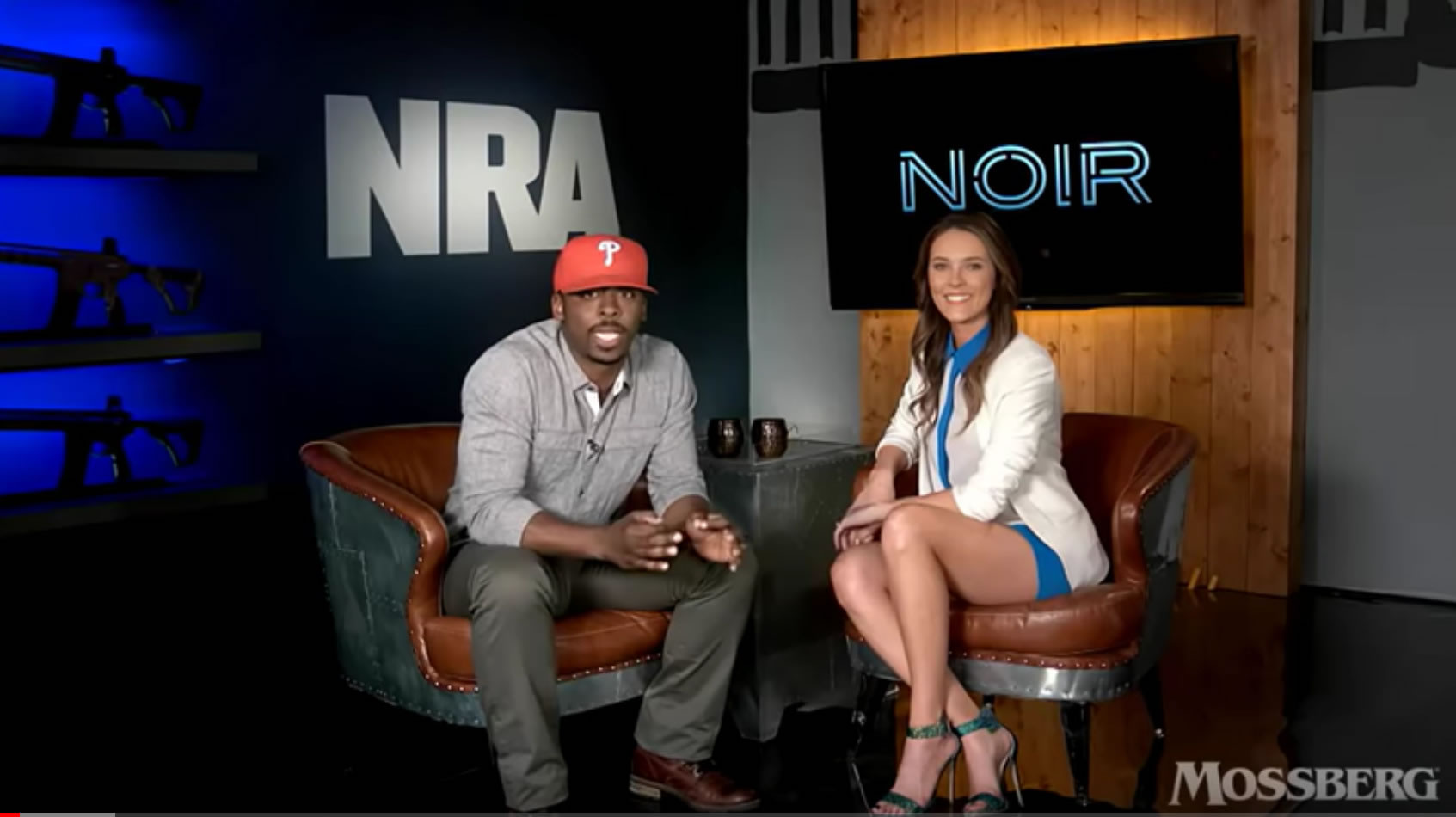 Screen shot from the first episode of NRATV's talk show NOIR, hosted by Colion Noir with co-host Amy Robbins and sponsored by gun manufacturer Mossberg67
The "viable and healthy" NRA predicted by Brownell that would result from its embrace of diversity was soon derailed by a series of financial controversies, internal power struggles, and revelations of alleged corruption surrounding Executive Vice President Wayne LaPierre and other senior officials that engulfed the organization soon after and continue as of this writing (including an August 2020 lawsuit filed by the New York State Attorney General to dissolve the organization because of its alleged financial malfeasance).68 In May 2019, the NRA filed suit against its longtime public relations firm, Ackerman McQueen.69 Among the firm's responsibilities was running the NRA's online "news" outlet NRATV, which was the most public face of the group's efforts targeting minorities and incessantly promoted Noir and other NRA-branded pro-gun "personalities" (it was later revealed that Noir was actually an employee of Ackerman McQueen, not the NRA). In June 2019, the NRA, as part of its battle against Ackerman McQueen, pulled the plug on NRATV, removing the primary platform for its proponents of pro-gun "diversity."70

---
Back to Table of Contents

Next – Section Three: The NSSF and NRA Exploit COVID-19 In Their Marketing Efforts
---
43 "American Hispanics: The Newest Second Amendment Enthusiasts," NRAFamily, August 13, 2015.
44 "Gun Rights Groups Shift Attention To Latinos To Boost Membership," ThinkProgress, April 6, 2016 (https://archive.thinkprogress.org/gun-rights-groups-shift-attention-to-latinos-to-boost-membership-aee58618ed0b/).
45 See: "Remington Outdoor Company Announces Marketing Alliance/Sponsorship with Gabriela Franco," press release, August 18, 2014 (https://www.remington.com/news/2014/remington-outdoor-company-announces-marketing-alliance/sponsorship-gabriela-franco); "Gabby Franco Joins Team Walther," NRA Shooting Sports USA, November 29, 2018 (https://www.ssusa.org/articles/2018/11/29/gabby-franco-joins-team-walther/); "Tips & Tactics — Gabby Franco: Cross-Dominant Shooting," March 5, 2020 (https://www.nrawomen.com/content/tips-tactics-gabby-franco-cross-dominant-shooting/?NRARelatedContent=true).
46 "What Does It All Mean?," SHOT Business, October/November 2018.
47 "The Hispanic Community's Emerging Interest in the Shooting Sports," NRABlog, September 17, 2015 (https://www.nrablog.com/articles/2015/9/the-hispanic-communitys-emerging-interest-in-the-shooting-sports/).
48 "Not Your Father's NRA?," America's 1st Freedom, August 19, 2015 (https://www.americas1stfreedom.org/articles/2015/8/19/not-your-fathers-nra/).
49 See https://www.eventbrite.com/e/guns-cake-feat-antonia-okafor-tickets-73701516219.
50 "NRA Releases Powerful New Ads Featuring Millennial Women," NRA Blog, July 12, 2016 (https://www.nrablog.com/articles/2016/7/nra-releases-powerful-new-ads-featuring-millennial-women/).
51 "Freedom's Safest Place — I Didn't Listen," National Rifle Association, July 11, 2016 (https://www.youtube.com/watch?time_continue=6&v=6BEdyfJ9SO8).
52 See https://blackgunsmatter.myshopify.com/collections/all (Toure); https://shop.mrcolionnoir.com/ (Noir); https://gabbyfranco.com/shop/ (Franco); and, https://www.empowered2a.org/store (Okafor).
53 See https://www.youtube.com/watch?v=eqQzk5sCAok&list=WL&index=60&t=0s.
54 "Black Guns Matter Founder Maj Toure on Quitting the NRA and Chopping It Up With the Trumps," BREAKERMAG, April 4, 2019 (https://breakermag.com/black-guns-matter-founder-maj-toure-on-quitting-the-nra-and-chopping-it-up-with-the-trumps/).
55 "Celebrating The National African American Gun Association's One Year Anniversary," NRA Blog, March 22, 2016 (https://www.nrablog.com/articles/2016/3/celebrating-the-national-african-american-gun-associations-one-year-anniversary/).
56 The case was a challenge to New Jersey's law governing the carrying of handguns in public. New Jersey requires applicants to show a "justifiable need," meaning there must be "a special danger to life" that can only be avoided with a permit to carry a gun. The plaintiff applied in 2017 for a public-carry permit and argued that New Jersey's restrictions violate the Second Amendment. The Supreme Court refused to hear the case.
57 "NRA money helped reshape gun law," Washington Post, March 13, 2013 (https://www.washingtonpost.com/world/national-security/nra-money-helped-reshape-gun-law/2013/03/13/73d71e22-829a-11e2-b99e-6baf4ebe42df_story.html).
58 "Political triggers for a Black American Gun Club," Scalawag, April 10, 2018 (https://www.scalawagmagazine.org/2018/04/political-triggers-for-a-black-american-gun-club/).
59 "GLOCK Partners With National African American Gun Association," The Truth About Guns, April 22, 2018 (https://www.thetruthaboutguns.com/glock-partners-with-national-african-american-gun-association/#:~:text=Glock%20and%20NAAGA%20begin%20Official,Glock%20as%20an%20official%20partner).
60 "Talking Back to Social Media Platforms: The Brownells Case," NSSF press release, June 13, 2018 (https://www.nssf.org/talking-back-to-social-media-platforms-the-brownell-case/).
61 "NRA Will Focus On Outreach With a Broad Spectrum of Programs," America's 1st Freedom, July 3, 2017 (https://www.americas1stfreedom.org/articles/2017/7/3/nra-will-focus-on-outreach-with-a-broad-spectrum-of-programs/).
62 "Second Amendment Belongs to All Americans, Regardless of Race, Creed or Gender," America's First Freedom, August 2017 (https://www.nxtbook.com/nxtbooks/nra/aff_201708/index.php?startid=36#/p/10).
63 "Second Amendment Belongs to All Americans, Regardless of Race, Creed or Gender," America's First Freedom, August 2017 (https://www.nxtbook.com/nxtbooks/nra/aff_201708/index.php?startid=36#/p/10).
64 "Second Amendment Belongs to All Americans, Regardless of Race, Creed or Gender," America's First Freedom, August 2017 (https://www.nxtbook.com/nxtbooks/nra/aff_201708/index.php?startid=36#/p/10).
65 "Pete Brownell: Everyman's Voice," America's 1st Freedom, August 31, 2017 (https://www.americas1stfreedom.org/articles/2017/8/31/pete-brownell-everyman-s-voice/).
66 Following the 2017 annual meeting, Brownell unexpectedly resigned as NRA president before his term ended and was replaced by NRA board member Oliver North. Brownell resigned as an NRA board member in 2019. See "Pete Brownell, who heads major supplier of firearms accessories, resigns from NRA board," Washington Post, May 30, 2019 (https://www.washingtonpost.com/politics/pete-brownell-head-of-major-firearms-supplier-resigns-from-nra-board/2019/05/30/55f7399a-831b-11e9-bce7-40b4105f7ca0_story.html).
67 See https://www.youtube.com/watch?v=VButiaH4hu0.
68 "Attorney General James Files Lawsuit to Dissolve NRA," press release, New York State Office of the Attorney General, August 6, 2020 (https://ag.ny.gov/press-release/2020/attorney-general-james-files-lawsuit-dissolve-nra).
69 "N.R.A Sues Longtime Contractor, Accusing It of Smearing Wayne LaPierre," New York Times, May 22, 2019 (https://www.nytimes.com/2019/05/22/us/nra-ackerman-mcqueen.html).
70 "N.R.A. Shuts Down Production of NRATV, and Its No. 2 Official Resigns," New York Times, June 25, 2019 (https://www.nytimes.com/2019/06/25/us/nra-nratv-ackerman-mcqueen.html).