For Release: Wednesday, February 3, 2021
Analysis Released Following Florida Assault-Weapon Attack That Left Two FBI Agents Dead and Three Wounded
Washington, DC — One in five law enforcement officers slain in the line of duty from 2016 to 2018 were killed with an assault weapon, according to new research by the Violence Policy Center (VPC).
As seen in the graphic below, from 2016 to 2018 (the most recent years for which information is available) 164 U.S. law enforcement officers (excluding Puerto Rico) were slain in the line of duty. Of these, 34 (21 percent) were killed with an assault weapon. Information for the VPC analysis was obtained from the Federal Bureau of Investigation (FBI) under the Freedom of Information Act (FOIA) along with data published by the FBI's Law Enforcement Officers Killed & Assaulted Program for 2016, 2017, and 2018.
VPC Legislative Director Kristen Rand states, "The longstanding threat posed by assault weapons to law enforcement and the general public is the direct result of the gun industry's embrace of militarization in the design, production, and marketing of its increasingly lethal products. As a nation, we will continue to be held hostage by these weapons of war until Congress takes action."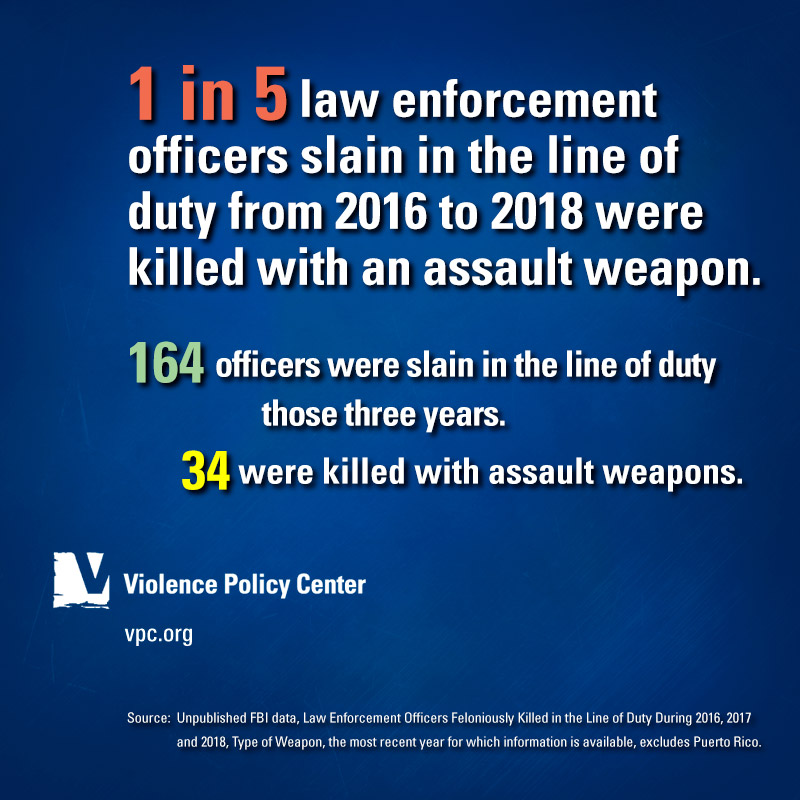 ***
The Violence Policy Center is a national educational organization working to stop gun death and injury. Follow the VPC on Twitter and Facebook.