For Release: Wednesday, December 16, 2020
Washington, DC — Innocent victims continue to die at the hands of private citizens with permits to carry concealed handguns, according to ongoing research from the Violence Policy Center (VPC). Concealed handgun permit holders are responsible for at least 1,760 deaths not involving self defense since 2007, VPC research shows. Details on these fatal incidents can be found on Concealed Carry Killers (concealedcarrykillers.org), an online resource that provides examples of non-self defense killings involving private citizens with permits to carry concealed handguns in public.
Overall, Concealed Carry Killers documents 1,522 fatal, non-self defense incidents since May 2007 in 40 states and the District of Columbia, resulting in the deaths of 1,760 people. Thirty-five of the incidents were fatal mass shootings as defined by federal law (three or more victims killed), resulting in the deaths of 167 victims. At least 24 law enforcement officers have died at the hands of concealed carry killers since May 2007.
VPC Legislative Director Kristen Rand states, "The dangers of carrying a concealed firearm as demonstrated by this VPC research is particularly important considering the recent boom in gun sales. New gun owners should understand the tremendous risks of obtaining and carrying a firearm. The self-defense benefit is illusory, while the risks of suicide, unintentional death, or committing a criminal homicide are all too real."
Because there is no comprehensive recordkeeping of deaths involving concealed handgun permit holders and many states in fact bar the release of such information, the examples on Concealed Carry Killers are taken primarily from news reports along with the limited information collected by a few states. Hence, they likely represent a small fraction of actual events. Concealed Carry Killers does not include the small number of incidents that are eventually determined to involve self-defense or where no verdict is reached at trial. All such incidents are removed from the database's ongoing totals.
In the vast majority of the 1,522 incidents documented in Concealed Carry Killers (1,405, or 92 percent), the concealed carry permit holder either committed suicide (886), has already been convicted (437), perpetrated a murder-suicide (62), or was killed in the incident (20). Of the 78 cases still pending, the vast majority (65) of concealed carry killers have been charged with criminal homicide, four were deemed incompetent to stand trial, and nine incidents are still under investigation. An additional 39 incidents were fatal unintentional shootings involving the gun of the concealed handgun permit holder.
Where information is available, Concealed Carry Killers includes a detailed narrative of the incident, including (if available) the age of the perpetrator and the victim(s), the weapon used, the relationship(s) of those involved in the killing, and motives for the killing when stated.
Below is a chart showing the status of all concealed carry killers since May 2007: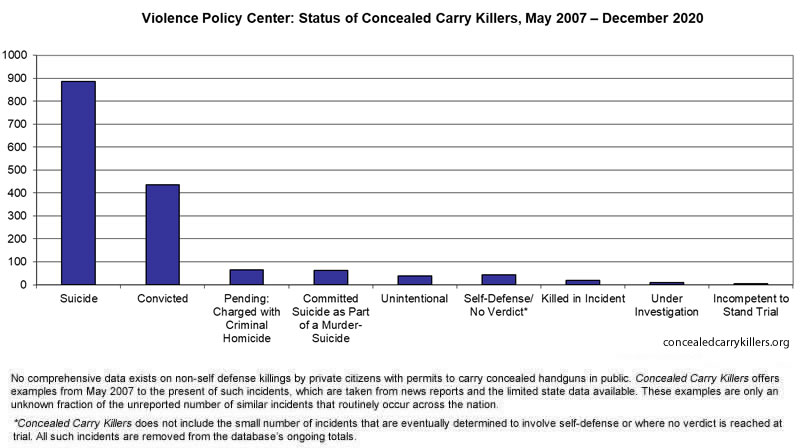 The findings of Concealed Carry Killers are consistent with the latest academic research, which shows that state laws allowing concealed handguns in public do not increase public safety — in fact, they do the opposite. A 2017 study from Stanford University concludes that state concealed carry laws are linked to an increase in violent crime.
And the May 2020 VPC study, Firearm Justifiable Homicides and Non-Fatal Self-Defense Gun Use, shows it is extremely rare for private citizens to use guns in justifiable homicides. The study found that in 2017, there were only 298 justifiable homicides involving a private citizen using a firearm. That same year, there were 10,380 criminal firearm homicides, based on data from the Federal Bureau of Investigation Uniform Crime Reporting Program's Supplementary Homicide Report.
Additional information, including a state-by-state breakdown of fatal incidents involving concealed carry killers, is available at concealedcarrykillers.org. To review all deaths involving concealed carry killers, click on "Total People Killed by Concealed Carry Killers."
***
The Violence Policy Center is a national educational organization working to stop gun death and injury. Follow the VPC on Twitter and Facebook.